5
Monday, January 8, 2007 | 1:35pm
Jay-Z & GM Collaborate on "Jay-Z Blue" Denali
   Jay-Z and General Motors are teaming up to bring a stylish hue to a rugged sport utility vehicle. The music mogul emerged from a concept GMC Yukon Denali SUV on stage Saturday during a celebrity-filled party thrown by General Motors Corp. on the eve of media previews for the North American International Auto Show. [...]
 
 
Jay-Z and General Motors are teaming up to bring a stylish hue to a rugged sport utility vehicle. The music mogul emerged from a concept GMC Yukon Denali SUV on stage Saturday during a celebrity-filled party thrown by General Motors Corp. on the eve of media previews for the North American International Auto Show.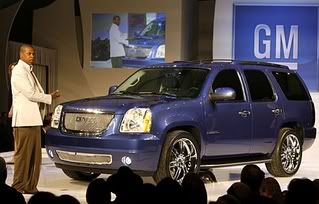 Painted "Jay-Z Blue," ( a new color hue of blue Jay-Z has registered with color authority, Pantone) the SUV was developed through a partnership with the rapper during the past two years. Jay-Z, whose real name is Shawn Carter, worked with the company's global color studio to create the reflective blue color for the SUV.
"Hopefully I'll be able to drive one of them out of here tonight," he said.
Jigga was also known to reference the the hue in Young Jeezy's "Go Crazy" remix:
"…attract money, my worst color is light green/my favorite hue is Jay-Z blue…"
The North American International Auto Show opens to the public from Jan. 13 – Jan. 21, 2007. 
FILED IN Cars, Music, Need to Know